Mums@Work Events
Mums@Work runs events throughout the year. From career-centric events to Start a small business events – we cover a wide range that support mothers seeking work-family balance.
In addition, our team of HR specialists also run workshops for Employers. We specifically look at Flexible Work Arrangements. See HERE for more details.
---
UPCOMING EVENTS
EY ReStart, candidates interested in the following positions can apply via
http://cnavigators.com.sg/eyrestart

1) Manager, Transaction Tax
2) Financial Audit IT (FAIT) Manager, Risk Assurance
3) Internal Audit Manager, Internal Audit
4) Senior Associate, Risk Transformation
5) Senior Associate (Financial Services), Process Improvement - Information Technology
6) Manager, Strategy & Transformation Group
7) Manager/Senior Manager, Transaction Support
8) Manager/Senior Manager, Valuation & Business Modelling
9) Senior Associate/Manager, Process Improvement - Information Technology

(Shortlisted candidates will get the opportunity to do a trial period of up to 6 months, * On-boarding orientation training * Re-integration Support & Coaching (via JumpStart Programme) * Mentorship & Buddy-support * Skills training * Networking opportunity with professional groups & more
Career Navigators (Mums@Work) is the official partner of EY ReStart with Ernst & Young
*********
EdTech, FinTech, HealthTech - How do Female Talents Fit?
(Education Mini-workshops + Career Session) ~ For Career Transitioners, Career Progressors & Back-to-Work Female Talents ~
Join the mini-learning sessions to get an overview of EdTech, FinTech & HealthTech. Meet the Business Leaders of these new-wave of firms revolutionising the working world & find out how you secure jobs!
9th Feb 2018 (9:30am - 1:30pm)
Our Goal: To keep you up-to-date of what is trending with Artificial Intelligence, Cloud Computing, Blockchain Technology. This is NOT only for the 'Tech-people' but for female talents who are curious about what job opportunities there might be in firms within these three areas.
Through 6 Mini-Learning Sessions + 1 Career-Advisory Panel Discussion, you get to:
have an educational-update on the current knowledge required in the Finance Industry (FinTech), Education Industry (EdTech) and Health Industry (HealthTech)
have an insight into the corporate cultures (and work environments) of such firms
discover what skill sets (and basic knowledge) that are found in such firms
understand the hiring preferences of such firms.
This event is great for:
- Women who want to explore NEW careers in these industries
- Women who are keen to keep abreast about what is the latest trends changing the Economy
- Women who are returning to the workforce
AGENDA
09:30am FINTECH 1: FINTECH - AN ENABLER OR A DISRUPTOR?
10:00am FINTECH 2: THE FUTURE OF MOBILE PAYMENTS
10:30am HEALTHTECH: MOVING TOWARDS PERSONALISED & PREVENTIVE HEALTHCARE
11:00am TEA BREAK
11:20am EDTECH 1: THE NEW MODES OF LEARNING - NANO LEARNING
11:50am EDTECH 2: EDTECH FOR HIGHER EDUCATION
12:20pm TECH TALK: INTRODUCING CLOUD COMPUTING, BLOCKCHAIN & AI TECHNOLOGY
12:50pm - 1:20pm CAREER PANEL DISCUSSION
For Detailed Agenda Programme Details, Click HERE
___________________________________________________________________________________________
PAST EVENTS
"REFRESH. RECHARGE. RESTART"
Really psyched to be partnering Standard Chartered Bank (SCB) to bring women back to the workforce in "Refresh. Recharge. Restart" If you are keen to relaunch your banking career in Corporate and Institutional banking, apply for a place at this session to meet biz leaders and understand how SCB supports working mums.
This event is over. Do keep in touch for future events.

**********
MUMPRENEUR MONDAYS
We are really excited to have QED Consulting (Who are social media experts!) to come and talk about Digital Transformation. This is actually a mini-masterclass, that has been designed to help equip individuals to remain relevant by staying up-to-date with the latest trends, buzz words, and case studies happening in the market.

Topics include:
• Why Digital Changes Everything
• How To Create Value In A Digital World
• Trends In The Digital World
If you are a business owner who wants to understand how Digital transformation has changed the environment, this session will be useful for you.
********
GET YOUR CAREER GOING! - RESUME & INTERVIEW WORKSHOP
In this morning session we will guide mothers on how to write an effective resume & cover letter that helps you make a career switch OR come back into the workforce.
Learn how to re-invent your Personal Brand to move ahead in your career.

We will also highlight some myths (and ways to debunk and overcome them) that cover letters/ resumes are often described to be!
In the afternoon session, we will zoom in on the Interview techniques that will assist your job search.
This is a hands-on event where attendees will get to put into practice (immediately) the tips given by the trainers.
SINGAPORE KIDPRENEURS BAZAAR 2017
Designed to inspire and encourage a new generation of entrepreneurs, Singapore Kidpreneurs Bazaar serves as a platform to support 5-16 year olds who want to have a go at being a real entrepreneur
Programme:
Date: 22nd – 23rd July 2017 (Sat & Sunday)
Venue: Westgate Shopping Mall Courtyard, Level 1
Time: 10:30am – 7:30pm
Does your kid (5 - 16 yrs old) want to be a KIDpreneur and take up a stall? All Kidpreneurs also get a chance to attend the "be a boss" Kidpreneur Workshop
MUMPRENEUR WORKSHOP: "I WANT TO BE A MUMPRENEUR"
- Starting & Growing a Small Business from Home

UPDATED 2017 version - this is ideal for MUMs who want to learn how to start up a small business that they can run from home (and potentially grow). With practical tips, specific "know-hows", this workshop has actual hands-on activities that help you to get started.
Clear guidelines on how to register, how to grow, find your target customer, source for products etc - this workshop has been run more than 20 times and has always been very well-received!
WHO IS THIS WORKSHOP FOR?
Mothers who are:
thinking of starting their own business
in the early stages of planning their own business
own a blog shop and would like to formalise it into a registered business/ taking it to the next level
keen to learn a little more about branding/ marketing your small business
*Includes handouts, guidebook & follow-up slides
* Actual sharing with a current Mumpreneur
____________________________________________________________________________________________
MBTI:
Understand Yourself to increase workplace effectiveness & buil
d our career
In this full-day workshop, your MBTI profile (Official report from the accrediting organisation) will be shared with you.


The session will talk about your strengths and how you can leverage on them in a career setting. In addition, there will also be activities and exercises that help you understand what motivates your personality type (and also your working colleagues), allowing you to work more efficiently.
FOCUS: CAREER - As it is fairly interactive, seats will be limited to 20 persons.

WOMEN WEDNESDAYS - Supporting you to make life work
A 5-part series to allow you to find guidance in the small modules of "Life".

This 5-session series allows you to explore the various challenges we face as women. As we guide you with concrete "know-hows" and deliverables you can achieve, each session will act as a platform for you to make changes in that specific areas of focus.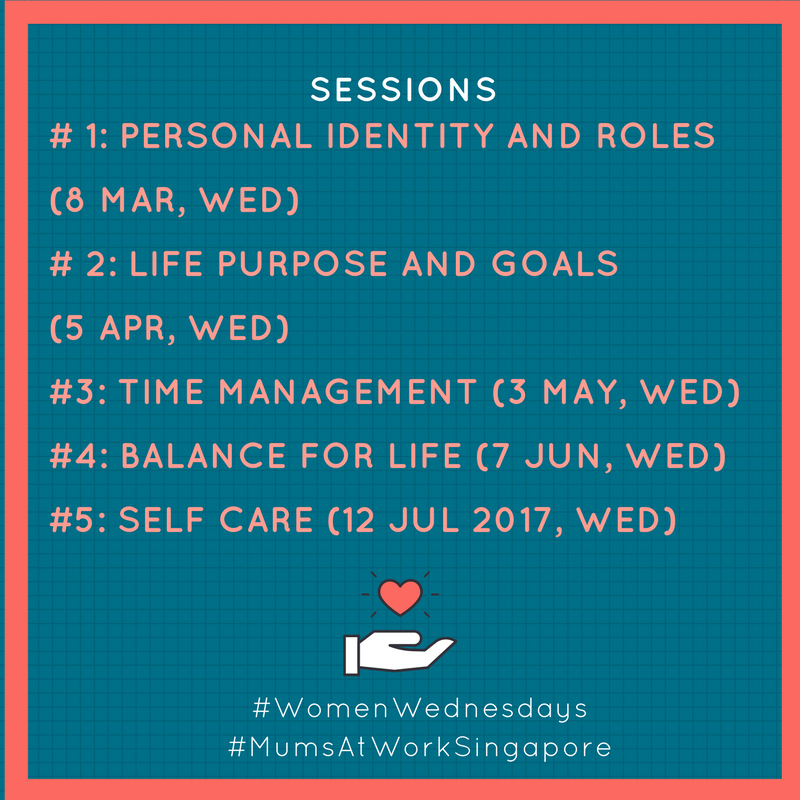 In addition, Sam, the life coach (a mother of 4 herself) will facilitate the small group d
iscussion to have specific outcomes at the end.

You can sign up for a single session or more than 1 session.

____________________________________________________________________________________________
INTRODUCING NEW CHANGES TO MUMS@WORK.
Starting from 2017, we will be officially launching our subsidiary "CAREER NAVIGATORS".
The focus of Career Navigators: to help women returning to work, after taking a career break. We partner firms to bring female talent back to full-time positions. There will be a whole range of activities from Job fairs, networking events, Employer discussions etc. We have also been in discussions to partner firms for on-boarding activities, so STAY TUNED!
We started off with the

Standard Chartered Bank "Moms Matter"

event and the

Google-LinkedIn- Microsoft "Non-Tech roles in the Tech industry"

event......so you can expect LOTS more in 2017.
____________________________________________________________________________________________
OTHER EVENTS TO LOOK OUT FOR: