Mums@Work Events
Mums@Work runs events throughout the year. From career-centric events to Start a small business events – we cover a wide range that support mothers seeking work-family balance.
In addition, our team of HR specialists also run workshops for Employers. We specifically look at Flexible Work Arrangements. See HERE for more details.
---
UPCOMING EVENTS
MUMPRENEUR WORKSHOP: "I WANT TO BE A MUMPRENEUR"
- Starting & Growing a Small Business from Home

UPDATED 2017 version - this is ideal for MUMs who want to learn how to start up a small business that they can run from home (and potentially grow). With practical tips, specific "know-hows", this workshop has actual hands-on activities that help you to get started.
Clear guidelines on how to register, how to grow, find your target customer, source for products etc - this workshop has been run more than 20 times and has always been very well-received!
WHO IS THIS WORKSHOP FOR?
Mothers who are:
thinking of starting their own business
in the early stages of planning their own business
own a blog shop and would like to formalise it into a registered business/ taking it to the next level
keen to learn a little more about branding/ marketing your small business
* Only 17 attendees allowed, as it's meant to be interactive.
23rd May 2017 (Tues)
9:30am - 5:00pm
*Includes handouts, guidebook & follow-up slides
* Actual sharing with a current Mumpreneur
FIND OUT MORE or SIGN UP HERE: http://conta.cc/2pbkw4R
_______________________________________________________________________________
MBTI: Understand Yourself to increase workplace effectiveness & build our career

25th April 2017, Tues 9am - 5pm @Lifelong Learning Institute
* This Workshop can be paid using your SkillsFuture Credit
In this full-day workshop, your MBTI profile (Official report from the accrediting organisation) will be shared with you.


The session will talk about your strengths and how you can leverage on them in a career setting. In addition, there will also be activities and exercises that help you understand what motivates your personality type (and also your working colleagues), allowing you to work more efficiently.
FOCUS: CAREER - As it is fairly interactive, seats will be limited to 20 persons.

$321, inclusive of materials & tea-breaks
* This Workshop can be paid using your SkillsFuture Credit
____________________________________________________________________________________________
WOMEN WEDNESDAYS - Supporting you to make life work
A 5-part series to allow you to find guidance in the small modules of "Life".

This 5-session series allows you to explore the various challenges we face as women. As we guide you with concrete "know-hows" and deliverables you can achieve, each session will act as a platform for you to make changes in that specific areas of focus.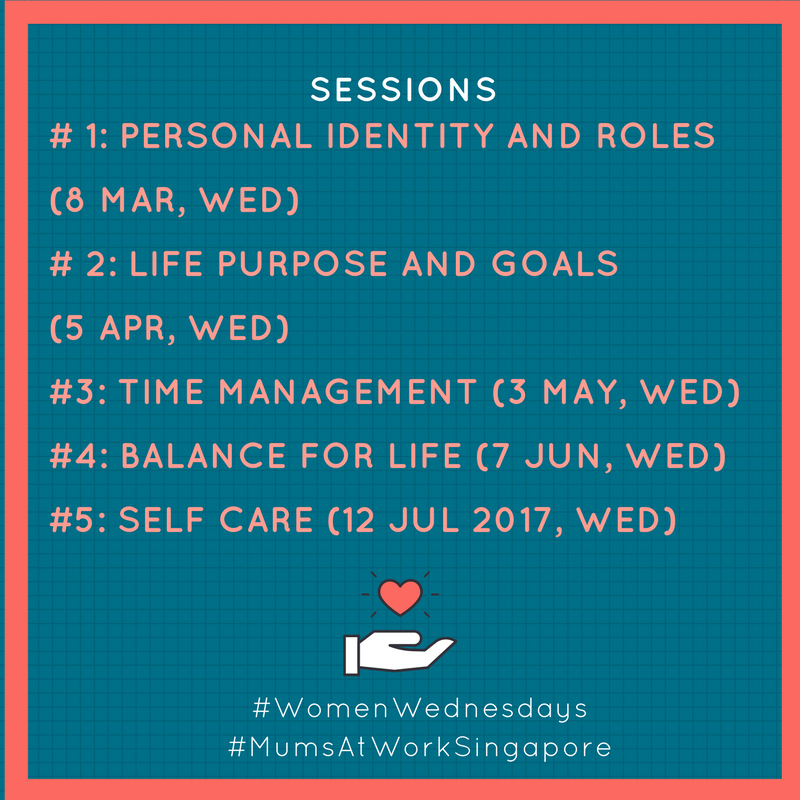 In addition, Sam, the life coach (a mother of 4 herself) will facilitate the small group discussion to have specific outcomes at the end.

You can sign up for a single session or more than 1 session.

____________________________________________________________________________________________
INTRODUCING NEW CHANGES TO MUMS@WORK.
Starting from 2017, we will be officially launching our subsidiary "CAREER NAVIGATORS".
The focus of Career Navigators: to help women returning to work, after taking a career break. We partner firms to bring female talent back to full-time positions. There will be a whole range of activities from Job fairs, networking events, Employer discussions etc. We have also been in discussions to partner firms for on-boarding activities, so STAY TUNED!
We started off with the

Standard Chartered Bank "Moms Matter"

event and the

Google-LinkedIn- Microsoft "Non-Tech roles in the Tech industry"

event......so you can expect LOTS more in 2017.
____________________________________________________________________________________________
OTHER EVENTS TO LOOK OUT FOR: