FIRMS WE HAVE COLLABORATED WITH
Praises
"Just wanted to say thank you for listing our advertisement back in November 2013. We got a phenomenal response from some very smart, enthusiastic and eager-to-learn mums. Happy to inform you that we just concluded our first training programme. Hats off to these wonderful women who took up the challenge of learning a new skill and survived 4 weeks of intense, intense, intense training despite kids, illnesses, school breaks, school trips to attend to!"
Nandini, Merrill Corporation, Employer
"Thank you for making a difference in the lives of mums, families and to the children. I have just secured a position through your portal, so a big thank you!"
Karen, flexi-mum, mother
"We have had encouraging response from the previous ad run; there are some good quality candidates. I would now like to try advertising for another position"
Sharon, Owner, MEV Pte Ltd, Employer
"We have received quite a good response and have started interviews. Thank you so much!"
Jacqueline, Foreign Bank, Employer
"A way of feedback, the site has provided some very good responses so I am happy that it was pointed out to me. At this stage we have enough applicants to proceed. Many Thanks and I would definitely use you again."
Marianne, HR, Westpac Banking Corporation, Employer
"Thank you for the initiative to set up this website. You have helped not only me, but many work-at-home mums. This morning, I signed an agreement to start a work-from-home position. Yippee!"
Wendy, flexi-mum, mother
"Fantastic, thank you. We've already received our first application within a few hours of listing. Great stuff."
James, Managing Director, Media Agency, Employer
"….while recruiting for the World Bank, I had attended at short notice, the really useful job fair you organized at NLB. We successfully recruited a very qualified Mom via your platform - many thanks! "
Nicole, World Bank, Employer
"I'm surprised at the number of mums who have responded in such a short time."
Joshua, Director, SME, Employer
"The first event I attended organised by Mums@Work was for one on government grants. Thanks to that talk, I've gotten to know about the various grants available to me as a start-up. Subsequently I joined the Facebook group, and got to know a few really nice like-minded mumpreneurs. The group is very supportive, and I love the energy of the group and I've learned a lot from the other mumpreneurs. Thanks Sher-li for all the good work you've done, and for starting this group!" Cheers, Kaye "I've enjoyed meeting likeminded women and mothers via Mums@Work. Sher-li has brought together a wonderful network of women who act as each other's sounding board and support group. I have also benefited greatly from the various seminars and networking events that she has organized - the topics are always relevant and highly applicable in my work."
Dorothy Loh, Dotted Line Designs Pte Ltd
Mums@Work has been an invaluable resource for me. The course was fantastic in providing all the information on how I could transform my business dream into a reality. Very practical and hands-on, and the contacts I have made through this course continue to be a great resource. I'm so thankful for Mums@Work.
Jacqueline, Neis Haus
"Just wanted to say thank you for organising a fantastic evening last night. The Bank of America Merrill Lynch Returnship networking event went really well and provided a wonderful opportunity to not only meet people from the organisation but to also gain some insight into their flexible and very family friendly work practices. You did a fantastic job. "
Leanne, Flexi-work mum
"I had attended the networking event that Mums@Work organized together with BOA-ML. I applaud you for the wonderful opportunities that you have open up mums who want to get back to the workforce but at the time face concerns in juggling work and family."
Jessica, Flexiwork mum
"I attended the mumpreneur workshop you ran today and came out having learnt a lot and enjoyed myself. Thank you for an informative and engaging session."
Anna
"Your career fair was very helpful. I thoroughly appreciate mums@work and all that you and your team do. "
Carol, mother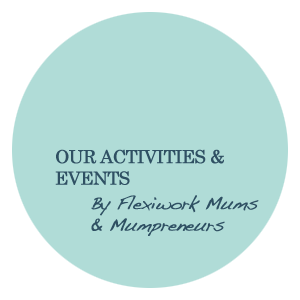 "I am writing to thank you for the great efforts to organise the yearly event for all stay-at-home and professional mums. It had been an encouraging as well as an eye-opening experience for me to learn that there were many mums like myself stepping out to re-enter the workforce. "
LiYing
"I have always appreciated your efforts and specially this intiative of yours...its really great."
Nidhi
"and i really appreciate the efforts this team is putting in bringing some sanity in the lives of moms!!!"
Sarah
"You don't know what a big difference you've made to the lives of so many mums who want to make a decent/good choice to spend more time with kids while pursuing some form of career!"
Stella
"I really like what your website is doing for mums like myself. Having stopped work after my two little ones came along, I was at my wits' end on how I can care for my kids and still earn some money. That is until I chanced upon your website …..Just want to say "good work mums! "
Serene
"Keep up the good work! We are indeed lucky and proud to have you around "
Christine (Mumpreneur-owner of Human Nature Singapore)
"I really look forward to your emails & events "
Adeline
Have a story or testimonial you'd like to share with us? Click
here
.